We went to our college friends' wedding last Saturday, remember? It was great. WOW. The wedding itself was simple (hmm… I wonder if it was Pio who planned that hahaha, that guy is probably as stingy as Marc and me!), but the reception was incredible (now THAT I'm sure Jo-Ann plannned wehehehe). Just think: roasted calf, roasted pig, chocolate fondue, live band, and FIREWORKS after the wedding. That's the Jo-Ann wedding I know hehe.
The wedding reception was held at Fantasy Island in Lemery. The place is great, but I felt like I was going to freeze into a human icecube! I already had colds (thanks to my honey, who shares EVERYTHING with me, even his colds), so you can just imagine my situation for the next couple of days. Yeah, that's why there's a delay in this post. I was sick 😛 Oh well! Fun has its consequences.
Here are some of the photos I took. I was freezing, so I really couldn't get much photos taken. I'll post more once I get to download the photos JR took.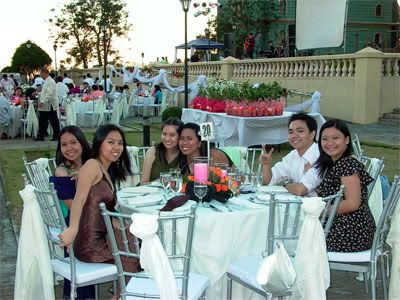 Friends we shared our table with.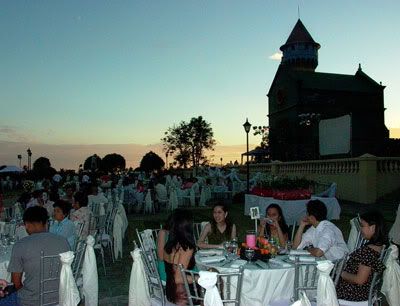 Looks like a castle, doesn't it?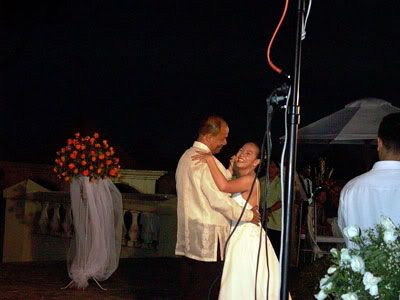 Jo-Ann dancing with her dad.

Jo-Ann TRYING to dance with Pio. I don't think he had dance lessons before this. 😆 He was stepping all over her dress! GO PIO!!! 😆

Me and my honey. Thanks for taking the pic, JR.
More photos to come!!!
I'll be getting back to work for now. I have a 2-day backlog because of the flu.