Finally, I'm able to blog. Sorry guys, been caught up with the hustle-bustle of Christmas!
Quite a lot has happened the past few days and let me tell you all about it. But before anything, thank you for all the greetings you've sent through email or comments here on my blog. I do hope you enjoyed the doggy Christmas card I sent
I'll try to make another one for New Year if I have time.
December 17 actually marked the first day of our unusual Christmas. Ever since my sister got sick, we've spent our Christmases only at home. Pretty boring really. It had always been a simple dinner with my uncle (who passed away two years back)—that's it. Anyway, this year, we went to Ayala Alabang for a mini reunion and Christmas dinner.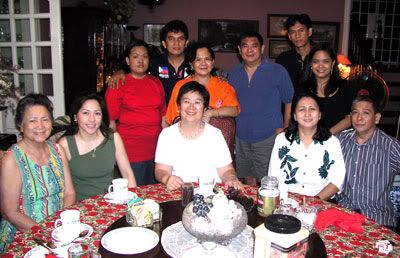 On the 21st, I invited the Kaingin (a socially-oriented organization I used to belong to in college—we tutored kids every Saturday in Baranggay Kaingin Dos) for caroling here as our company's holiday outreach. My family really enjoyed the carols, but also made my mom quite sentimental.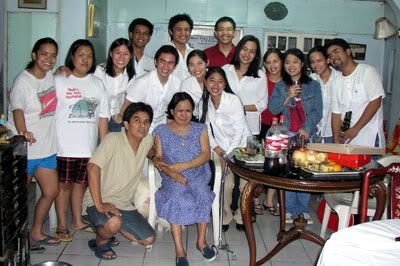 Our Christmas Eve celebration is the most unusual. We had a pre-midnight Noche Buena in Ayala Alabang, but we had to leave around 11:30pm because my sister Joyce was becoming uneasy with the increasing number of people (she gets weird around many people due to her psychological condition). So there. For the first time as a family, we spent Christmas (midnight) on the road. Since it was a bit corny spending the rest of the night at home, we went to Manila and strolled around a little in Rizal Memorial Park.
Christmas Day we spent with my dad's side of the family in Caloocan. In the evening, Marc with his mom and siblings visited us. Nothing spectacular, we just had a simple dinner and some wine.
We really did quite a lot this Christmas, and I can say this is probably one of the best I ever had… I don't know, maybe it's because I've just been so used to having a sad Christmas during the past few years. Or maybe because I've just been through so much that I'm finally beginning to learn to make the most out of what I have. My sister may be schizophrenic, my mom half-paralized due to a stroke, and my dad and I might have to work really really hard to make ends meet—but at least we're happy, and still a complete family
Happy holidays everyone! I hope you have a great year ahead